The below information is from BabyBox.com for their upcoming Spring 2013 Trunk Show!
A great opportunity to stock up on your spring and summer must have for family and friends.
Mention you received her email blast to save 15% on your order (not valid online).
The First Day of Spring is only 20 days away................
Are you ready?
The BabyBox.com Annual 2013 Spring/Summer Trunk show, starts this Thursday
February 28th and runs this and next week through Thursday, March 8th in Darien, CT.
As always,
this promises to be an excellent show with lots of great selections for the
upcoming season!
Clothes and accessories for ages from 6 months to 16 years, as well
as fun selections for mommies too.
Hope you can come. Forward this email to your friends
***Featured in New Canaan/Darien/Rowayton Magazine***
BabyBox.com rated as one of the top trunk shows
"worth scoring to an invite to"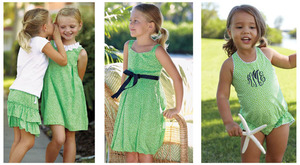 ˜

Spring/Summer

Collections

Trunk Show 2013

˜
Luxury Children's Collection,

ages newborn - 16 years
SPF +50 Protection Swimwear, ages newborn - adult
Traditional Children's Clothing, ages 3 months - 6 years
Custom Designed Clothing, ages 6 months - 8 years
Classic Clothing , ages 6 months - 16 years
Classic Clothing , ages

7 years -16 years
Traditional Clothing , ages 3mths - 12 years

(and women's collection as well)
(All items are guaranteed to arrive before Easter)
---
AND just in time to get your body "beach ready" for "bathing suit season"
over $100,
you will receive a complimentary one month membership at any Equinox
location. You will also
be entered to win daily club giveaways (massage sessions, personal
Thursday, February 28th 9:30am - 4:00pm
Friday, March 1st 9:30am - 4:00pm
Monday, March 4th 9:30am - 4:00pm
Tuesday, March 5th 9:30am - 4:00pm
Wednesday, March 6th 9:30am - 4:00pm
Thursday, March 7th 9:30am - 4:00pm
Friday, March 8th 9:30am - 4:00pm
Questions: 203.655.0185 or ktype@babybox.com

.

Credit cards & checks accepted.
Signature gift items from
BabyBox.com
; monogrammed baby blankets, diaper covers &
burp cloths,
personalized sweaters & tees, knit items, lunch bags, pajamas, beach towels,
Easter gift basket plush bunnies and more gift ideas.
And, we could never forget Mom: shawls, wraps, beach bags, decor, pool and beach
glassware, stationery & jewelry.